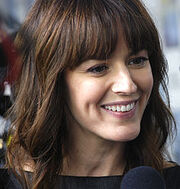 Rosemarie Braddock DeWitt (born October 26, 1971) is an American actress. DeWitt played Emily Lehman in the Fox television series Standoff, co-starring with her husband Ron Livingston, from 2006 through 2007, and played Charmaine Craine on United States of Tara. She also was the title character in 2008's Rachel Getting Married, garnering several awards and nominations for best supporting actress.
Early Life
Edit
DeWitt was born in Flushing, Queens, New York, the daughter of Rosemarie Braddock and Kenny DeWitt. She is a great-granddaughter of boxer James J. Braddock,and played the role of neighbor "Sara Wilson" in the movie Cinderella Man, which depicted James J. Braddock's life.
DeWitt lived in Hanover Township, New Jersey and is a graduate of Whippany Park High School.She performed in several high school productions including the role of Princess Puffer in The Mystery of Edwin Drood.She attended the New College at Hofstra University where she received a Bachelor of Arts in creative studies.While at Hofstra University, she also joined Alpha Phi. She had additional training at The Actors Center in New York.